Buy Controllers Direct from Us
For those who would rather not feed the Amazon Retail Machine, we are offering direct sales through this site at a 15 to 20 percent discount compared to our regular Amazon prices. Plus we offer free shipping!
If you plan to order a controller or stir plate from us soon
5/8/20 Update – We are finally seeing Amazon orders starting to return to normal. As of Thursday, many orders that should have been shipping from Amazon are actually shipping from Amazon and not from us. As a result we should start catching up with controller and stir plate orders! My best guess is we will back on track by the end of May.
Because of COVID-19, we are running 1 to 1-1/2 months late on controllers and stir plates ordered through brew-control.com. We are staging and shipping about 40 orders a day that Amazon FBA would normally ship for us and this is burning up a lot of our time. We are a small business and because of these extra shipments we can only produce about 1/4 the controllers and stir plated we could normally produce.
Sure, we would ship this material to AMAZON anyways but there is a huge difference in time between bulk shipping to AMAZON and shipping individual orders to customers. I'm sure this will be corrected when AMAZON FBA shipping has returned to normal but when, I don't know. And I'm not complaining about Amazon. I believe that Amazon is doing the right thing for the country.
Orders placed through this web site have always shipped one to two weeks out because Amazon has to come first or they ding us pretty hard. We are still filling orders in the order they come in, just later than usual.

Thanks Tom Hargrave
thargrav@live.com
All payments are processed securely through PayPal
120V Boil Controller – 15% Discount compared to Amazon
| | | | |
| --- | --- | --- | --- |
| Standard Outlet | 20 Amp Twist Lock Outlet | Desktop Standard | Desktop Twist Lock |
| | | | |
Or buy directly from us
Ships with the following options
Standard Power Outlet
$131.74 USD
L5-20 Twist Lock Outlet
$148.74 USD
---
240V Boil Controller – 20% Discount compared to Amazon
Wall Mount Incoming Power Options
| | | | |
| --- | --- | --- | --- |
| 3 Prong Dryer Plug | 4 Prong Dryer Plug | L6-30 Plug | L14-30 Plug |
| | | | |
Counter Top Incoming Power Options
| | | | |
| --- | --- | --- | --- |
| 3 Prong Dryer Plug | 4 Prong Dryer Plug | L6-30 Plug | L14-30 Plug |
| | | | |
Or buy directly from us
Ships with the following options
NEMA 10-30 3 Wire Dryer Plug
$203.99 USD
NEMA 14-30 4 Wire Dryer Plug
$203.99 USD
L6-30 3 Wire Twist Lock
$203.99 USD
L14-30 4 Wire Twist Lock
$203.99 USD
---
120V Mash Tun / RIMS Controller – 15% Discount compared to Amazon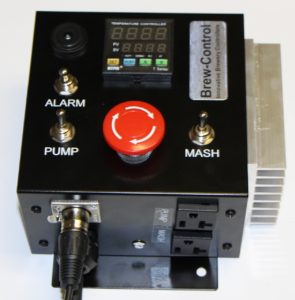 Ships with the following options
Element Power
Outlet
Sensor Option
1/2" MPT
50.5mm Flange
Standard
$220.99
$233.74
L5-20
$237.99
$250.49
---
240V Mash Tun / RIMS Controller – 15% Discount compared to Amazon
Ships with the following options
Incoming
Power Plug
Sensor Option
1/2" MPT
50.5mm Flange
4 Wire Dryer
$297.49
$310.24
L14-30
$297.49
$310.24
---
240V BIAB Controller – 20% Discount compared to Amazon
Ships with the following options
Incoming
Power Plug
Sensor Option
1/2" MPT
50.5mm Flange
4 Wire Dryer
$319.99
$331.74
L14-30
$319.99
$331.74
---
240V HERMS Controller – 20% Discount compared to Amazon
Ships with the following options
Incoming
Power Plug
Sensor Option
1/2" MPT
50.5mm Flange
4 Wire Dryer
$359.99
$371.99
L14-30
$359.99
$371.99
240V Home Full Brewery Controller – 15% Discount compared to Amazon
Ships with the following options
Incoming
Power Plug
Sensor Option
1/2" MPT
50.5mm Flange
50.5mm Flange, 1 – 4″ Thermowell, 1 – 6″ Thermowell
4 Wire Dryer
$594.99
$620.49
$620.49
L14-30
$594.99
$620.49
$620.49